This year summer camp was something special as the latest leg of our ongoing exchange program with 12th Cambridge Canada took us to the Lake District.
Things kicked off early for our friends from Canada as 18 scouts and leaders from our namesake group flew across the Atlantic to take in the sites of Glasgow and Oxenholme for a few days before joining us. We're told there were only a few difficulties with the local accents 🙂 All their photos here!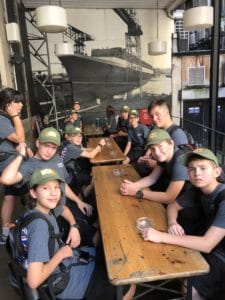 The day of camp itself dawned and the UK contingent set off from Cambridge bright and early with a few bleary eyes, collecting our Canadian contingent on route ready to arrive at an exceptionally wet and soggy Great Tower Campsite. As one wag pointed out, we shouldn't have been surprised, all those lakes came from somewhere….
After an afternoon of setting up camp and a good night's sleep Sunday dawned and at last we same something that looked like the sun! It was an action packed day as scouts variously got stuck into rock climbing, kayaking and high ropes either on site or off of it. Tons of photos of all the action here 🙂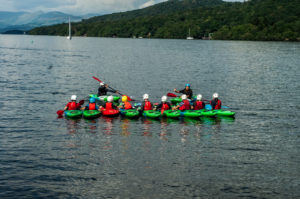 Monday came and another soggy morning, but there was no time to get wet, it was time to head for the hills! With different hikes offered either up and over Ill Belle or over Wansdale Pike and into Ambleside there was something for everyone. The sun even showed its face during the afternoon. We thought it had got lost! All the photos here.
Summer camp isn't all about the action and the next couple of days were spent slightly more quietly with scouts getting up to all sorts including first aid training, camp site service, geocaching, orienteering and some general chewing the fat round the fire. Our exalted GSL even brought a pizza oven on to site for a slightly unusual camp dinner. Loads of photos here.
1 August came and with it the birthday of the scout movement as we remembered the camp on Brownsea Island in 1907 that marked its begining. Invited to a celebratory breakfast and promise renewal by our neighbours on camp, 3rd Macclesfield Scouts, before we headed off for another all action day with scouts doing whatever they hadn't done on day 2. Photos here!
Friday came and with it the big pack up. That wasn't the end of things though! Our friends from Canada returned to Cambridge with us for a few days of home hospitality as UK families hosted the Canadian scouts to give them a taste of British family life and took them to see the sites of Cambridge.
Being scouts though we couldn't just leave them to some down time. Stay still? Time off? Not us! So day trips to London and the Harry Potter Studios followed (turns out too much butter beer makes you ill. Who knew?) as our Canadian friends got to see what they'd only seen on TV.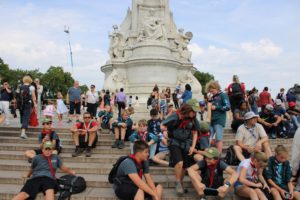 The final day dawned and a flight back from Gatwick to Toronto for our guests from across the Atlantic. Two weeks had flown by, dozens of trans Atlantic friendships had been forged and the count down to our return trip in 2021 had begun.