Anna-Katrine, (AK) one of our Young Leader Explorer Scouts with the scout troop is right now trying to raise the funds to take part in the 2015 World Scout Jamboree in Japan. And to do so she has a couple of businesses up and running…..
To pay her way she is willing to sew badges onto uniforms, camp fire blankets or anything else.
So Is your son or daughter an eager beaver, keen cub or super scout? Got a whole ton of badges to sew on and not enough time to do it? Then let AK  come to the rescue!
Charges are £1 per badge or £2 for 3. Plus and extra 10p if a badge needs moving from its original place…..
If you want to make use of her services please bring the uniform, badges and money in a sealed envelope to scouts on a Thursday night and AK will do the rest!
(The photo is of three very proud cubs showing off their newly awarded Chief Scouts Silver Awards, the highest award in cub scouting, at the final meeting of the year – the water fight! Well done!).
On top of that…… AK's jamboree unit are selling unit and UK contingent blanket badges plus unit neckers, photographed below.
Badges are £2 each and neckers £10.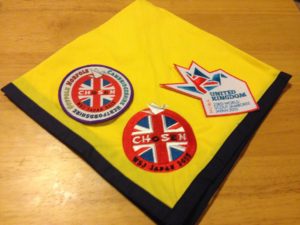 If you would like to order any of these please email AK via the troop email address, cambridgescouts12th@yahoo.co.uk